How Provillus for Women Works
Even women who do not worry about their makeup or current fashions fuss with their hair. Having hair that is deliberately un-styled is an expression of a sort, whether it is meant to signify non-conformity, a lack of time or a devil-may-care attitude. Hair makes a statement. Losing one's hair is a jolt when that someone is a man, but for a woman it is more than that; hair loss is a traumatic, or at the very least, a distressing event.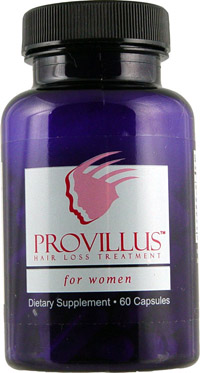 There are various reasons for hair loss in women; hormones and heredity are the most common factors. Female pattern balding for a long time was thought to be the same as male pattern balding, but professional opinion has shifted. Doctors now take into account that the pattern of hair loss is different: males lose hair at the hairline, the crown and the top of the scalp. Women's hair loss is more diffuse and the entire top of the head starts thinning. Also, men lose their hair as they get older while for women, hair loss can start at any time, although menopause seems to be one of the major trigger points.
There is a treatment formula specifically formulated for women that helps to prevent hair loss and helps to re-grow hair. Provillus for Women promotes follicle growth and supplies the body with nutrients important for healthy hair. Hormonal imbalances due to unusual thyroid activity, pregnancy or menopause can cause hair loss and when those imbalances are rectified, hair loss should stop.
Strong, healthy hair follicles are the surest way to have thicker, more luminous hair. Provillus for Women supplies the scalp with the vitamins and minerals necessary to maintain follicle health. Vitamin B6 is essential for red blood cell growth and development and is necessary for metabolizing protein. The neurological and immunological systems use B6 to function efficiently. Another B complex is found in Biotin, a vitamin supplement that aids in metabolizing fat and carbohydrates. It keeps hair, nails and skin healthy and strong.
The minerals and botanicals in Provillus are chosen for their important roles in metabolism, cell growth and, specifically, growth of hair. Magnesium helps with strengthening bone structure and neuromuscular transmission along with its role in digestion and protein synthesis. Horsetail promotes scalp health by stimulating circulation and adding essential amino acid and silica. Para-aminobenzoic acid aids in the metabolism of amino acids, supports folic acid production and aids in the role of red blood cells.
Provillus for Women is a treatment taken orally to work quickly by absorption into the bloodstream. It provides the proper nutritional building blocks to strengthen and fortify weakened or damaged hair follicles.